Wednesday, June 5, 2019
Today, ASIC released regulations that allow super and retirement calculators to allow for increases in community living standards. Our previous post on this topic noted that ASIC had mandated using a 2.5% p.a. discount rate to convert future dollars to today's dollars, with a time-limited exemption for super and retirement calculators. Since then the exemption was extended twice, but we now have certainty about how we present today's dollar amounts.
We allow our clients to use inflation rates that are consistent with the default investment returns. The additional factor over price inflation that allows for increases in community living standards is usually between 1% and 1.5%.
No changes are required for the Retirement Income Simulator because it already allows for increases in community living standards, and discloses this.

Tags: regulation inflation assumptions
Monday, May 6, 2019
We have just added a much requested feature! You now can now model your home loan inside the "Other assets/income" panel: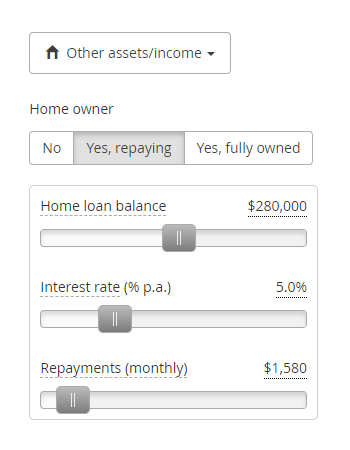 By selecting Yes, repaying you'll get a nice graph showing your home loan balance: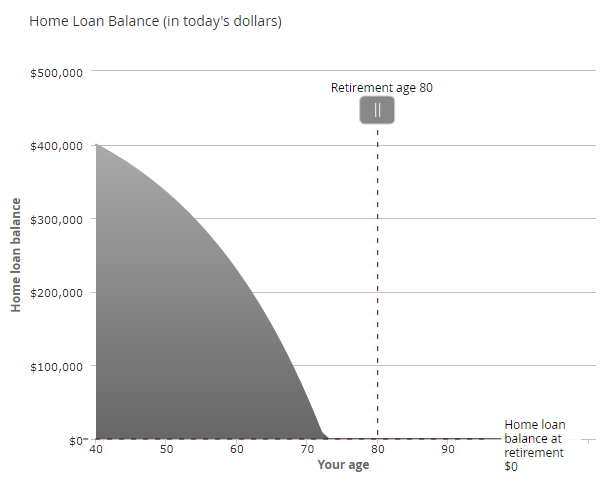 The good news is that if your home loan is paid off before retirement, then everything works much the same as it always has.
However, if your home loan is not paid off by retirement, then you'll see a notification:

Which will hopefully set off some alarm bells!
If you want to pay off your home loan when you retire, you can use the "Retirement Lump Sums" panel: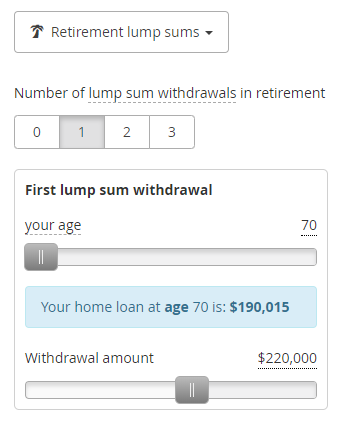 This allows you to assign a lump sum withdrawal to pay off your loan, so you can see where you stand for retirement.
If you were to withdraw a lump sum to pay off your home loan, you can see it reflected in the home loan graph: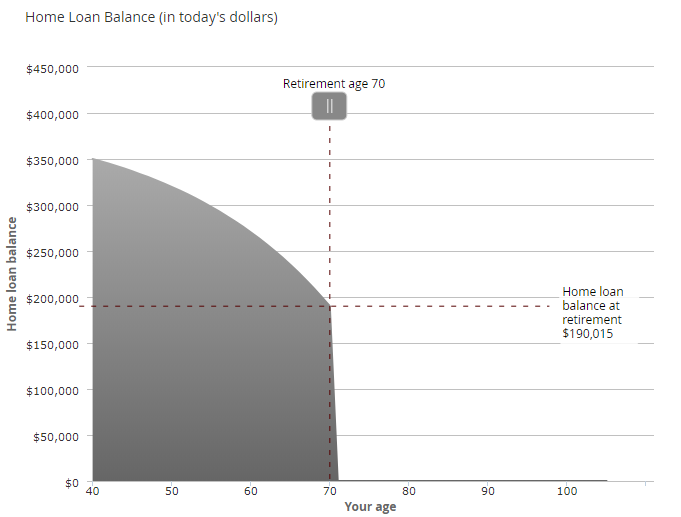 And of course, this is then reflected in your super balance :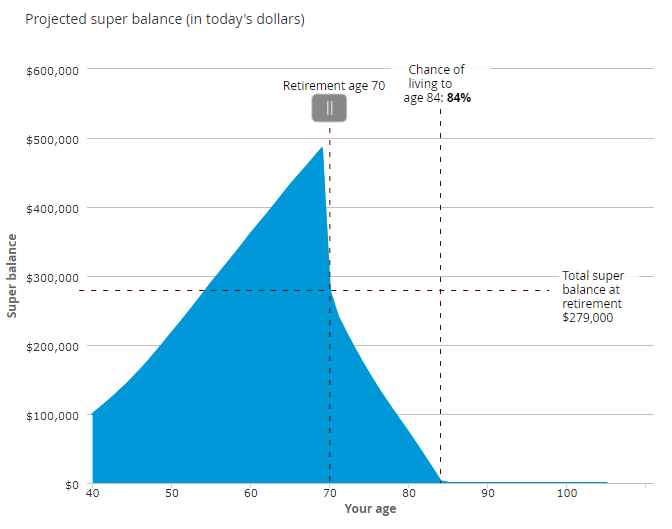 We hope that this new feature makes the calculator even more flexible and gives you options for planning for your retirement. If you have any queestions don't be afraid to contact us.

Tags: homeloan newfeature mortgage
Tuesday, September 12, 2017
We've had feedback about the limitations of the Simulator in relation to the self-employed. This week we released an enhancement that allows you to indicate that you (or your spouse/partner) are self-employed. Look for it on the Contributions panel. Selecting Yes will remove the Employer contributions slider and assumed employer contributions, allowing you complete control over contributions.
We're always happy to have feedback on any improvements.

Tags: self-employed feature contribution
Tuesday, July 4, 2017
On 1 July we released the updated Retirement Income Simulator for the 2017-18 financial year. There were no changes to the underlying calculations, just parameter updates as follows:
Co-contribution eligibility income threshold
SG maximum contributions base
Age pension income test and deeming thresholds
Our February release included the important updates to incorporate the transfer balance cap and new contribution caps.
Back in June some may have noticed a change in the presentation of fees on the Assumptions panel. This achieved two objectives:
allow the user to set a different percentage fee for the post retirement period
simplify the Assumptions panel to focus more on investment returns than fees

Tags: 2017 transfer-balance-cap fees
Wednesday, March 1, 2017
Today we released an update that, on retirement, limits the amount transferred to an account-based pension to the $1.6m transfer balance cap. The transfer balance cap is indexed with CPI, so will reduce relative to expected salary growth.
During retirement phase, any super balance that exceeds the transfer balance cap at retirement will remain in an accumulation account, separate from the super pension account.
We have updated the algorithm to meet lump sum and income requirements from the accumulation account first, subject to the minimum drawdown provisions applying to account-based pensions.
This release also introduces some warning pop-ups when you exceed the concessional cap or the transfer balance cap.

Tags: updates budget transfer-balance-cap
Next Page