Monday, May 23, 2016
There was a lot in the Federal Budget about super. In case you haven't seen it, here's Mercer's analysis.
Our Apps Team is frequently in a limbo between policy announcements and what has actually been legislated, and we rarely include any policy measure in the simulator if it has not been legislated. In this case however, the changes are so broad that we have done a special Budget Edition simulator to help you see the impact on your super of some of the measures announced in the Budget. Using the scenario feature in the RIS we have considered the following measures:
Continuing the operation of the Low Income Superannuation Contribution;
Reducing the concessional contributions cap to $25,000;
Reducing the income threshold at which the additional 15 per cent tax on concessional contributions applies to $250,000;
Limiting non-concessional contributions across the lifetime to $500,000; and,
Capping the amount of superannuation savings that can be converted into a retirement income stream at $1.6 million, indexed with price inflation.
The simulator uses the Summary -> Compare screen to show which Budget measures might affect your situation.
Other Budget measures we have not included relate to the incentives for spouse contributions, the ability to make deductible contributions independent of salary, the restrictions on transition to retirement income streams and the carry-over of unused concessional caps for five years.
We hope you find it useful. The link is: https://supercalcs.com.au/ris9budget

Tags: retirement-planning budget
Wednesday, April 13, 2016
Today's release includes:
Updating the maximum age pension rate increase effective 20 March
Updating the ASFA comfortable amounts reflecting the December quarter 2015
With January's release we mentioned that the regulation applying to online calculators was being replaced. Instead of Class Order 05/1122, which expired 1 April 2016, ASIC has released Corporations (Generic Calculators) Instrument 2016/207, which we nickname CI207. What has changed? Not much.
The disclosure justifying the default assumptions as reasonable no longer has to be clear and prominent
Any amounts projected more than two years into the future must be shown as present values
We're also working on an application to give users advice on their retirement (robo-adviser). Here's a sneak peek. If you're wondering where robo-advice fits in with calculators and advisers, try this automotive analogy.
Older cars don't do much for you, you have to change gear, wind the windows and remember to turn the lights off. Newer cars have auto-transmission/lights/wipers, lots of safety features and even navigation screens. These cars represent different online calculators on the web, which will help you get to your destination, a retirement plan. But with all of them, you're still the driver, you decide where you want to go and how you get there.
Now if you can't drive or don't know the roads, you need advice on where to go and how to get there; you need a driver. If you call an advice helpline, you're catching a taxi. If you hire a financial adviser, you're employing a chauffeur.
Think of robo-advice as the driverless car option. You say where you want to go, and the car gets you there. If you have lots of luggage, are starting in the bush or need to go via multiple waypoints, the car might decline. If you're on a well-travelled road, the driverless car will give you the best ride every time.
ASIC is now consulting the public on digital financial advice, and looking for comments on proposals to require minimum competence standards for licensees, and guidance for monitoring and testing of algorithms.

Tags: retirement-planning age-pension asfa-comfortable-standard robo-advice
Friday, February 26, 2016
They say a change is as good as a holiday.
The Retirement Income Simulator can now cater for both in relation to your career. The new career change feature allows you to specify up to three points at which your salary might experience a step-change. This allows for a promotion, a job change or even a period of part time work. The Simulator has always had a career break feature, where you can model up to three periods of no salary and contributions. Combine the two and you can now allow for something like this: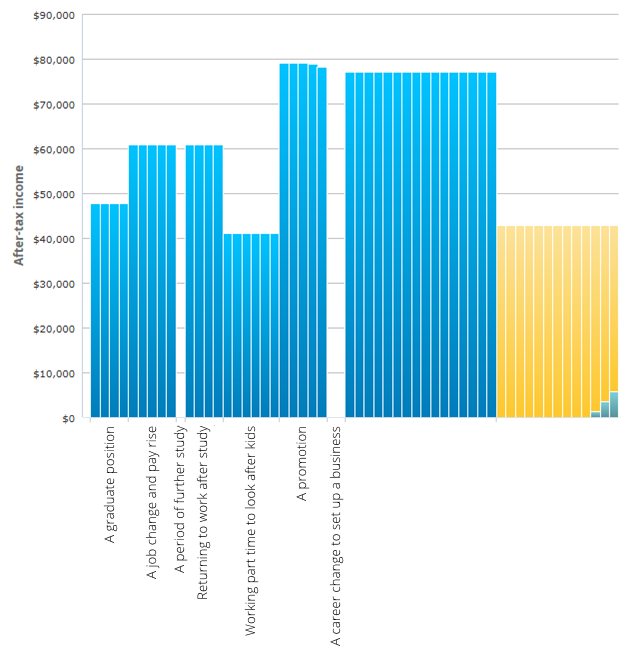 If you're really into it, you can do the same for your partner as well.

Tags: retirement-planning career
Monday, January 18, 2016
Happy New Year!
For our Australian clients:
ASIC is reviewing the regulations applying to online calculators, which are due to expire 1 April 2016, but our clients needn't be concerned. Let me explain.
The Australian Securities and Investments Commission (ASIC) is the regulator responsible to protect consumers when they make decisions and transactions in relation to financial products. One of the areas ASIC operates in is the area of financial product advice. Providers of financial product advice need to be licensed, and comply with various provisions in the Corporations Act, and breaching these provisions carries serious penalties. On the face of it, an online calculator like the Retirement Income Simulator could be considered to be providing financial product advice because it can be used to make decisions about superannuation – how much to contribute, investment strategy, amount to draw down etc, and also because it includes default assumptions about investment returns and inflation.
ASIC sees the benefits online calculators offer to consumers, so has set some simplified rules that allow funds to provide calculators without the requirement to be licensed and comply with the provisions in the Corporations Act. These rules relate to:
Disclosure of purpose, limitations and assumptions
Reasonableness of assumptions
Flexibility to change the assumptions
Ability to take a printout of results
Not promoting a specific financial product
The rules have been in place for 10 years and are about to expire, so ASIC has issued a consultation paper and proposed some minor changes.
What will this mean for your Retirement Income Simulator? We will be making a submission as part of the consultation process, and will be informed of the new rules and any transition period. (If you are a client offering a calculator, or even a calculator user, you could consider making a submission as well.) We will ensure that our calculators remain compliant with regulations at all times and will consult our clients on the implementation of any required changes. The licence fee for the RIS covers changes required for external events such as regulatory change. Please contact us if you have any queries.

Tags: regulations ASIC
Monday, December 14, 2015
Today's release includes the following new features:
When we released pensioner mode (see below 6 October), we didn't change the minimum retirement age (which was 60). Recognising that some users are already retired before age 60, we have effectively separated the two concepts of "retirement age" (stopping work) and "super drawdown age" (commencing a retirement income stream). If you are under 60, then you can be retired at any age and start drawing super from your preservation age. Please note we don't allow for benefit tax prior to age 60. This feature applies to Australia only.
After getting some feedback that the Scenario feature was a bit hidden, we've re-jigged the menus. What was the Action menu becomes the Scenarios menu, and a few other items jumped across to the View menu.
We have also re-jigged the page you get your PDF report from.

If you email your report, you can include an calendar reminder to re-check your super situation in 12 months.
While your report is being prepared, you can answer a 10 second survey to give us an idea of your experience of using the simulator.

If you're particularly skeptical of the Age Pension continuing, you can now turn it off on the Other Assets/Income panel. This feature applies to Australia only.
Again after getting some feedback, we have shortened the tutorial from 14 steps to 9.
We also welcome new client Virgin Money Australia with today's release.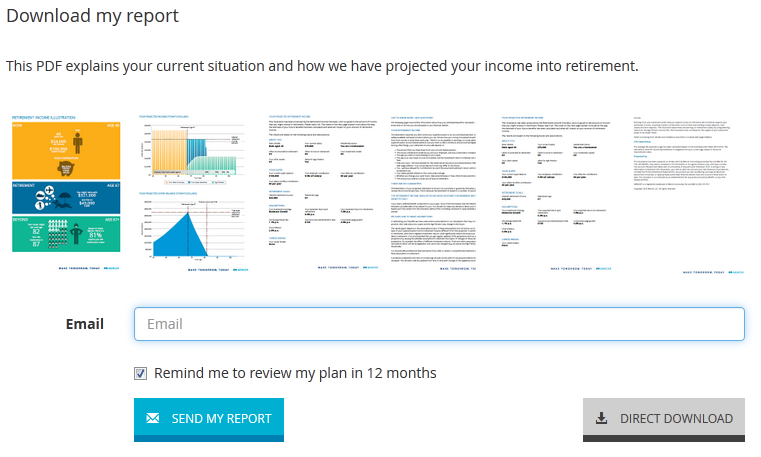 The new PDF report generation page.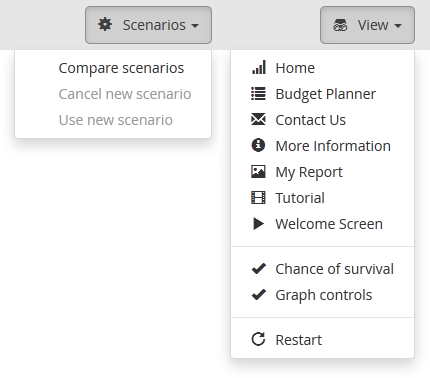 The new layout for the Scenarios and View menus.

Tags: retirement-planning retirement-age age-pension compare-scenarios pdf
Next Page